Three-dimensional cornea model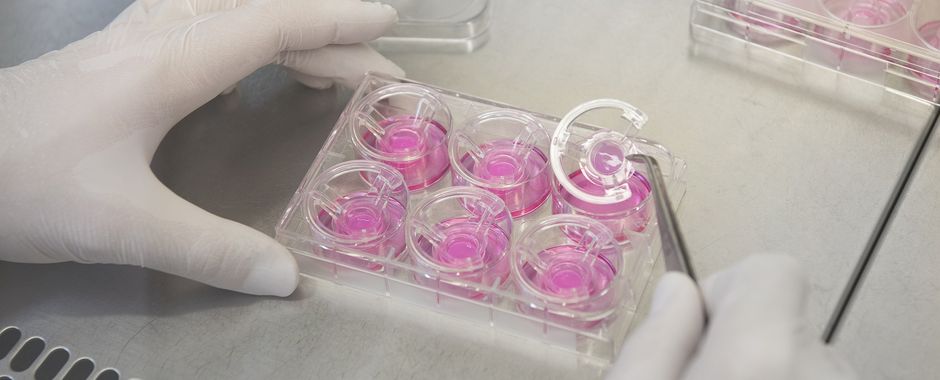 In co-operation with Christian Lotz, PhD, Fraunhofer Translational Center Regenerative Therapies (TLZ-RT), we developed a three-dimensional artificial cornea model to investigate corneal diseases in vitro. We can simulate wound healing after corneal injuries, but also sight threatening corneal infections. Most importantly, we can carry out drug tests on the in vitro model, thereby avoiding animal experiments.
Contact:
Dr. med. Daniel Kampik
PhD, Dr. rer. nat. Christian Lotz
Dr. med. Hong Han
Dr. med. univ. Olga Lamm
Regeneration of ocular tissues using gene transfer
Both the inner layer of the cornea, the corneal endothelium, and the cell layer under the retina, the retinal pigment epithelium (RPE), are essential for vision. Both types of tissue are amitotic and cannot regenerate. By introducing genes that influence cell division, we can promote their ability to regenerate. We currently study this concept in vitro in cooperation with the Lions Eye Bank Würzburg. In the long term, this might improve the quality of donor corneas before transplantation.
Contact:
Dr. med. Daniel Kampik
PhD, Dr. med. Hong Han
Corneal fungal infections can arise spontaneously, but most of all through contaminated contact lenses, and often have dire consequences for the transparency of the cornea requiring corneal transplantation. Few drugs are effective because fungi are often resistant. In cooperation with Professor Oliver Kurzai, Institute of Hygiene and Microbiology and Head of the National Reference Center for Invasive Fungal Infections (NRZMyk), we simulate fungal infections in three-dimensional corneal models. We can study the behavior of certain fungal strains on corneal tissue and their response to drugs in vitro.
Contact:
Dr. med. Daniel Kampik
Prof. Dr. med. Oliver Kurzai, PhD
Dr. med. Johanna Theuersbacher
Contact
Leitung Sektion Glaukom, Leitung Schwerpunkt Hornhaut
+49 931 201-20602
Projektleiter Tissue Engineering Auge und Haut, Lehrstuhl für Tissue Engineering, Kooperationspartner der Augenklinik
Wissenschaftliche Mitarbeiterin
+49 931 201-20435
Vorstand des Instituts für Hygiene und Mikrobiologie, Kooperationspartner der Augenklinik
+49 931 31-46160
Oberärztin (derzeit in Elternzeit)
+49 931 201-20602
Fachärztin
+49 931 201-20351
Operator:
+49 931 201-20351
How to get an appointment?
Outpatient and inpatient appointments:
Private patients please call
+49 931 201-20602
For Children's Appointments and all questions regarding Strabismus and Neuroophthalmology please call
+49 931 201-20487
E-Mail
For emergency cases we are available 24 hours a day. Dial number
+49 931 201-24621
---
Address
Department of Ophthalmology | University Hospital Wuerzburg | Josef-Schneider-Str. 11 | Building B2 | 97080 Wuerzburg | Germany