October 2023
Xiang Zhou, Seungbin Han, Nadine Cebulla, Larissa Haertle, Maximilian J. Steinhardt, Daniel Schirmer, Eva Runau, Leon Flamm, Calvin Terhorst, Laura Jähnel, Cornelia Vogt, Silvia Nerreter, Eva Teufel, Emilia Stanojkovska, Julia Mersi, Umair Munawar, Magnus Schindehütte, Robert Blum, Ann-Kristin Reinhold, Oliver Scherf-Clavel, Heike L. Rittner, Mirko Pham, Leo Rasche, Hermann Einsele, Claudia Sommer and K. Martin Kortüm
Bortezomib induced peripheral neuropathy and single nucleotide polymorphisms in PKNOX1.
Biomarker Research 2023 May 16; 11(1):52
Rationale
Multiple myeloma is the second most common malignant bone marrow disorder in Germany. A crucial component in the treatment of this disorder is bortezomib (BTZ), a well-established chemotherapy drug. Almost all individuals affected by multiple myeloma receive BTZ, however, a significant number of them develop peripheral neuropathy, a dose-limiting side effect of BTZ. The pathomechanisms underlying peripheral neuropathy in these conditions are not yet fully understood. A genome-wide association study (GWA study) suggested that specific nucleotide polymorphisms (SNPs) in PKNOX1 gene correlate with an increased risk of developing bortezomib-induced peripheral neuropathy (BIPN). In the present study, we investigated this possible correlation in myeloma patients treated with BTZ at the University Hospital Würzburg.
Individuals carrying a homozygous genotype mutation in PKNOX1 (rs2839629) and/or within the intergenic region between PKNOX1 and CBS (rs915854) have a notably higher risk of developing a painful bortezomib-induced peripheral neuropathy (BIPN). Conducting a genetic screening for these specific SNPs before initiating BTZ therapy could offer an improved means of assessing a patient's likelihood of experiencing a painful polyneuropathy, potentially serving as a valuable biomarker for tailoring personalized treatment strategies in the future.
Further information
Information about the authors of this study and the whole project 1 team, led by Prof. Martin Kortum, MD, Prof. Claudia Sommer, MD, and Prof Einsele, can be found on the project's respective side.
Previous Paper of the Month
Contact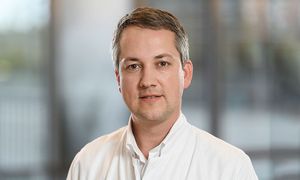 PI Project Bortezomib (P1)
+49 931 201-40001
Speaker of the Clinical Research Unit
+49 931 201-23763
PI Project Bortezomib (P1)
+49 931 201-40001